Quality Is Top Priority at Ahaus
We are focused not only on meeting customer requirements but also on exceeding their expectations. This is the ethos, the characteristic spirit of our company's culture.
We accomplish this goal through continuous improvement of our associates' business and technical skills, the facilities, tools and processes we use to serve our customers and the level of service we provide to them. We are fully committed to maintaining the hard-won recognition as a leader in providing high-quality solutions to the challenging manufacturing, tooling and automation equipment needs of a diverse industrial customer base. As a result, we are able to deliver the highest-quality special machines, power generation and workholding systems, precision machining services, and automation equipment in the industry.
Our commitment to quality, service and training is at the core of everything we do at Ahaus.
We insightfully design and build special equipment and fixtures which deliver practical, economical solutions for our customers.
We provide expert installation and responsive service support wherever and whenever needed.
Since 1977, we have supported this legacy by training new tool maker apprentices and nurturing their development into the next generations of professional design, controls and project engineers.
---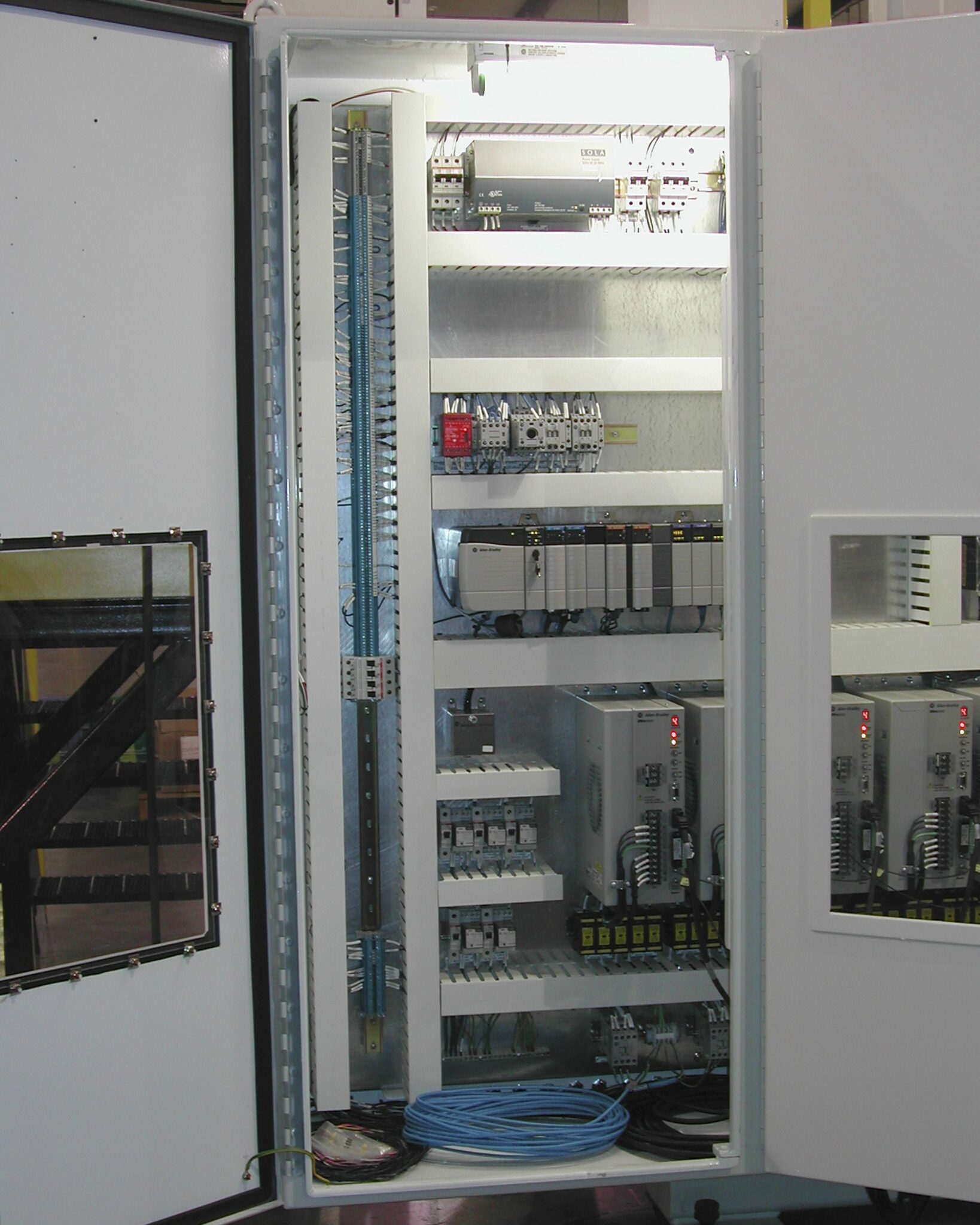 Meeting Customer Requirements and Continuous Improvemen
t
Quality Objectives
The following commitments, goals and responsibilities are essential:
Quality in tooling, design and specialized equipment processes is paramount.
Our core competency is the ability to move a project from concept through engineering and design to the shop floor and to the customer.
We will continuously improve through training, effective use of human resources, technology and reinvestment of capital.
We will generate a pride in American craftsmanship as we expand domestically and in global markets.
And these will be enhanced with the following approaches:
Our quality assembly eqiupment, special machines, workholding systems, and other special equipment will meet the requirements of ISO9001:2008 standards.
We will pursue continuous improvement and innovative leadership in our industry to create a competitive advantage for our customers and ourselves.
Quality shall be measured, evaluated and documented.
We will transact with our customers and vendors ethically while generating an environment of mutual respect and teamwork with management and employees.
Ahaus will be a quality corporate citizen by providing meaningful employment, being responsible through participative support to community needs, maintaining fiscal responsibility and complying with environmental and safety requirements.
---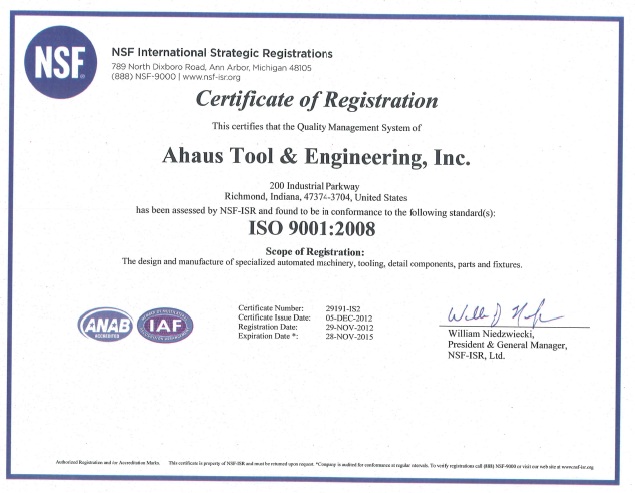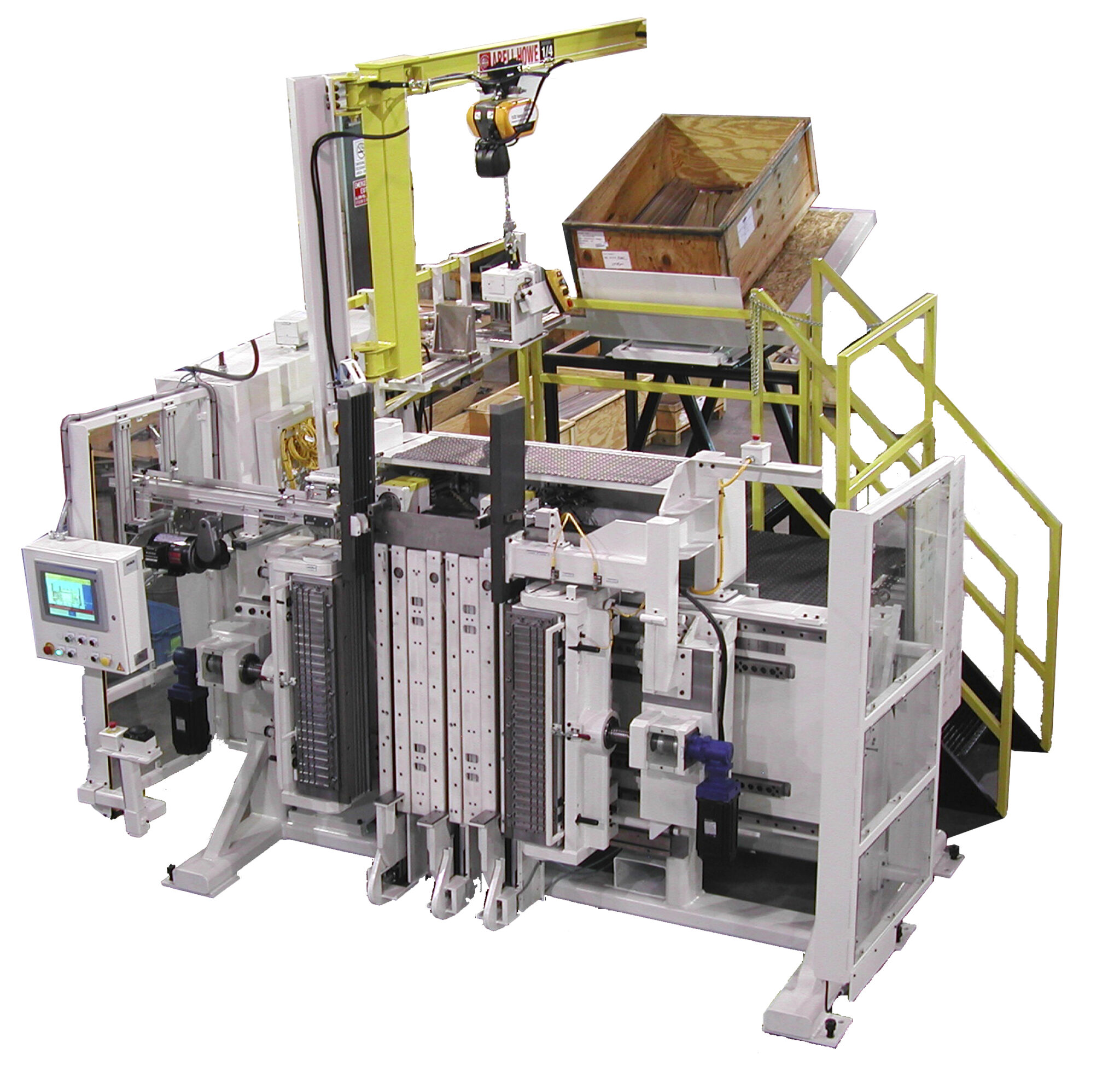 Automation Equipment Installation
Ahaus supports the installation and start-up of its equipment anywhere in the world. This includes:
Operator training
Instruction on troubleshooting guidelines
Training on routine maintenance procedures
Dedicated service personnel will travel to customer facilities to support both new installations and field changes/retrofits on existing equipment. These field service technicians are thoroughly knowledgeable and highly experienced in all aspects of installation, start-up and field change assistance. Often, this field service technician is the lead toolmaker, controls engineer or electrician who was involved in the original design, build and runoff of the automation equipment at Ahaus.
We recognize that an unanticipated start-up or system performance issue isn't just your problem. We pride ourselves on responding immediately and effectively to customer requests for field support. And we will work with customer manufacturing schedules to minimize any lost production due to machine downtime.
"I just finished dry running the fixture. Everything looks good. You guys did a fantastic job. I have yet to run a fixture like this where I have not had to trim a little here or there for clearance."

---
APPLICATIONS MANAGER
National Machine Tool and Inspection Equipment Company