Industrial Automation Equipment And Special Machines
LEAN · SEMI-AUTOMATIC · AUTOMATIC · ROBOTIC INTEGRATION
The Human Side of Automation
For more than a quarter-century, Ahaus has been designing and building special equipment and assembly automation equipment. Our extensive experience with industrial automation includes: assembly equipment, part joining/crimping equipment, bearing insertion assembly equipment, automation of part handling, robotic systems integration, process controls and custom metal removal. We research and integrate the best components, including feeder bowls, servo presses, laser markers, and conveyors to deliver an optimal automation solution.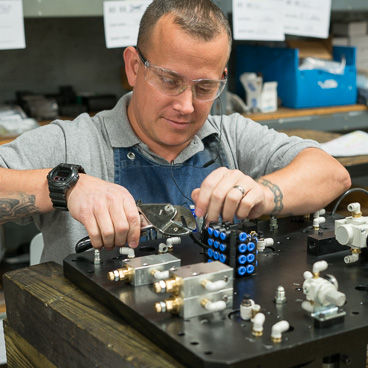 Large Systems
Fully automated systems combine the best of speed and accuracy for assembly and test solutions. Ahaus includes with every project, a complete complementary project management package including a project manager as your single point of contact, initial conception and design, customer reviews and approvals throughout the entire project, controls hardware and software design, and assembly debug and runoff of the final product.
Standalone Special Machines
Our very knowledgeable engineering team can work with your in-house engineering team to develop the best fit for your challenging needs. Ahaus has designed and built numerous stand alone stations to allow operators to interact with screw drivers, presses, crimpers, and many other tools required to assemble your components. With an integrated PLC your facility has the capability of extracting data strategically collected for quality and traceability.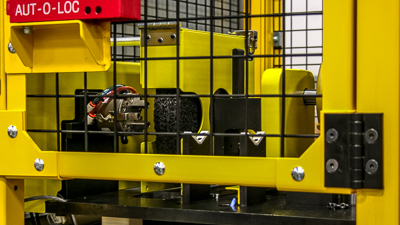 Semi-Automatic
Semi-automatic work cells combine the robust precision of automated equipment and also the cost-saving features of operator assembly and part manipulation. Semi-automated work stations offer a more cost effective solution when compared to a fully automated work station. Ahaus has the expertise and ability to identify the aspects of your assembly project that can be easily automated and the aspects that are more cost effective to be done by an operator.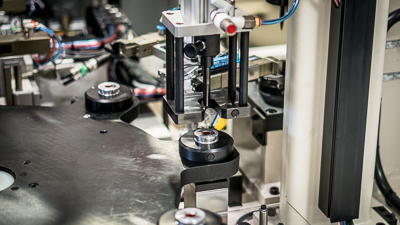 Lean Systems
Ahaus is able to help you save valuable resources by providing the best method to implement lean manufacturing in your assembly process. By finding the best possible solution, we are able to reduce labor input, floor space, capital investment, energy, and many other resources to get your components assembled as efficiently as possible.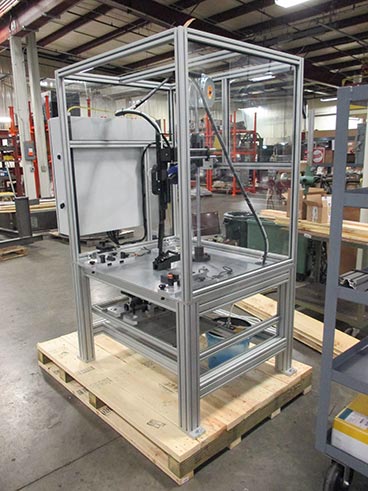 Integrated Testing
Using a test system may be the solution to confirm that your components pass capability testing. Ahaus has designed and built numerous test systems to confirm leak rates, failure modes, torque, and many other applications. PLC feedback can allow your facility to capture the test data output to track quality.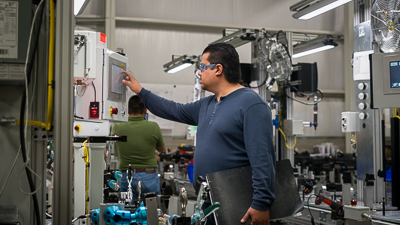 Our sales engineers have a combined 61 years of experience at Ahaus. We are always excited to work with you on new, custom projects that meet your unique needs.
To learn more about our capabilities, the best way is to review our recent work. From simple to complex, the results of these projects speak for themselves.
"Again, thanks for the help to resolve this welding fixture issue. Everyone did a great job. Please pass along my thanks to everyone involved for their expertise and attention to detail. The quality design ideas and craftsmanship really stand out in the end result."
---
SENIOR DESIGNER
Global Provider of Oil and Gas Products and Systems
---
Case Studies
It's Our Mission: Customer Success
Sometimes a company comes to Ahaus with a specific production need and an idea of how to address it. In those cases, we work in tandem with that customer to resolve the manufacturing challenge. Other times, however, a manufacturer comes to Ahaus with nothing more than a need, giving Ahaus' engineering staff both the challenge and the freedom to start with a blank sheet solution. From simple to complex, the results of these projects speak for themselves.
SEE OUR RESULTS
---
Quality Statement: Achieve success by delivering effective, reliable, and timely solutions for our customers.
Our Quality Objectives:
On time delivery
Low warranty cost
Low rework cost
Sustainable cost of good sold