Built for growth.

Built for generations.

Built for good.
For over 70 years, Ahaus Tool and Engineering has been offering customers high-quality solutions to challenging manufacturing, tooling and automation equipment needs. Located in Richmond, Indiana, Ahaus works with customers through conceptual design, engineering, service and support to meet their specific requirements.
At Ahaus, we are proud of our reputation for building quality, future-leaning projects that meet or exceed customer expectations. More than that – we are proud of our reputation for developing team members, from apprentices to managers. We understand that people are our most valuable resource and we act upon that belief, from empowering employees to further their education to creating an environment that promotes teamwork and personal improvement.
Good employees are the backbone of any successful company. But finding dedicated workers who are ethical, well trained and efficient can be a challenge. There's a growing myth that an employer should wait for potential employees with the right education and experience to come along, as opposed to training and developing the right individuals to meet the needs of the company.
That's why we have the Ahaus Apprenticeship program, which we've been offering for more than 30 years. Our apprenticeship program is a nationally accredited education program for toolmakers and CNC machinists. Our goal is to hire several individuals each year specifically to be trained in these professions. Our apprentices receive on-the-job training as well as formal education; we partner with Purdue University College of Technology and Ivy Tech Community College.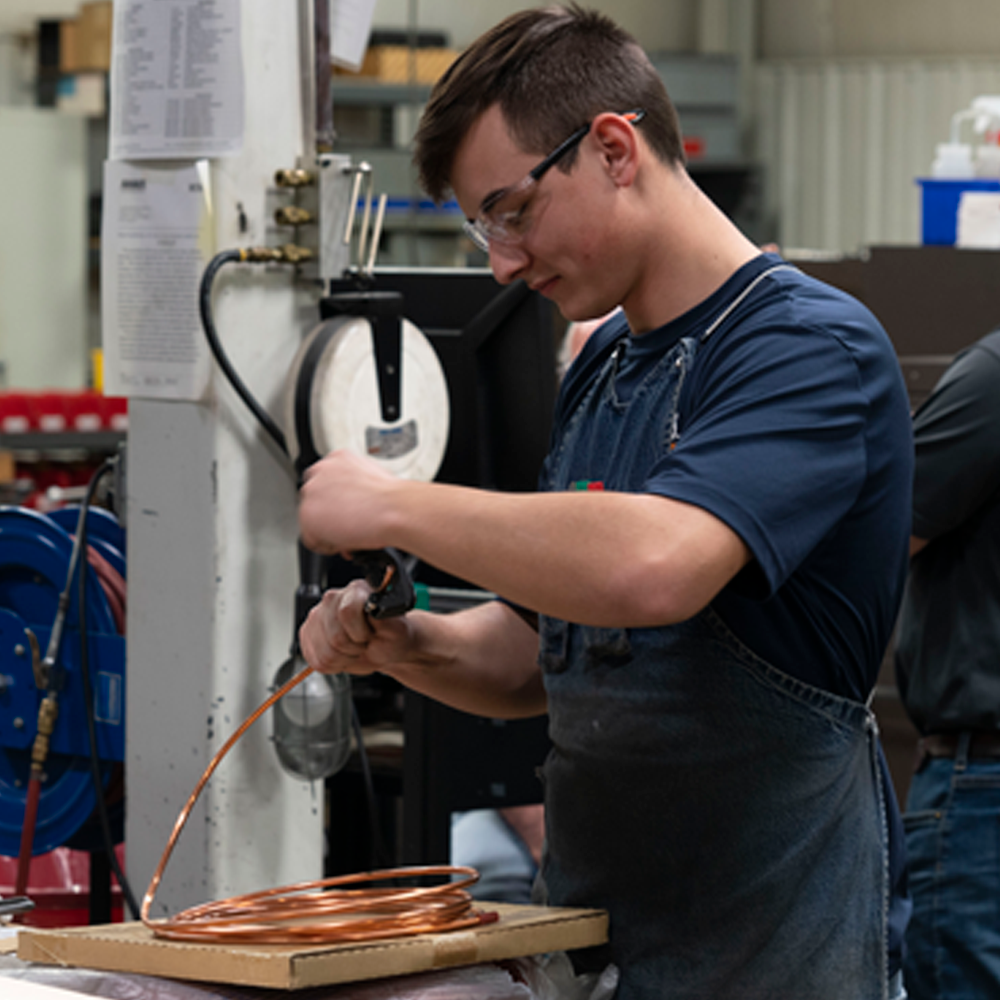 Careers
To have the best team experience, we need the best team members. Our 108 employees range in experience from high school co-op students to over 40 years in the manufacturing industry spanning three generations.


Ahaus Tool has always felt a strong connection to our local community. We remain committed to the Richmond area and firmly believe in giving back. Over the years we have provided financial support to a variety of local organizations, including the United Way, Boys and Girls Club, Richmond Third Grade Academy, Purdue College of Technology in Richmond and many local sports teams. We also provide financial support and remain active in local business organizations, including the Chamber of Commerce, Economic Development Corporation and Ivy Tech Community College. Ivy Tech recognized our generous donation by naming its Machine Tool Lab after Ahaus Tool and Engineering.


Culture
A high-value commitment to stellar workmanship, strong customer relationships, and sound machine and automation equipment design.

• Commitment
Deliver on what has been promised.

• Responsiveness
Have a sense of urgency in everything that is done.

• Ownership
Take the initiative to do things right, resolve issues, and improve the process.


---
Our sales engineers have a combined 61 years of experience at Ahaus. We are always excited to work with you on new, custom projects that meet your unique needs.
To learn more about our capabilities, the best way is to review our recent work. From simple to complex, the results of these projects speak for themselves.
History & Timeline
Operating out of his red two-car garage, William Ahaus and his son, Irvin, started the firm as Ahaus Tool Company in November of 1946. During the 1950s and '60s, research and development was integrated into the company's services and remains an invaluable part of the business today...


---